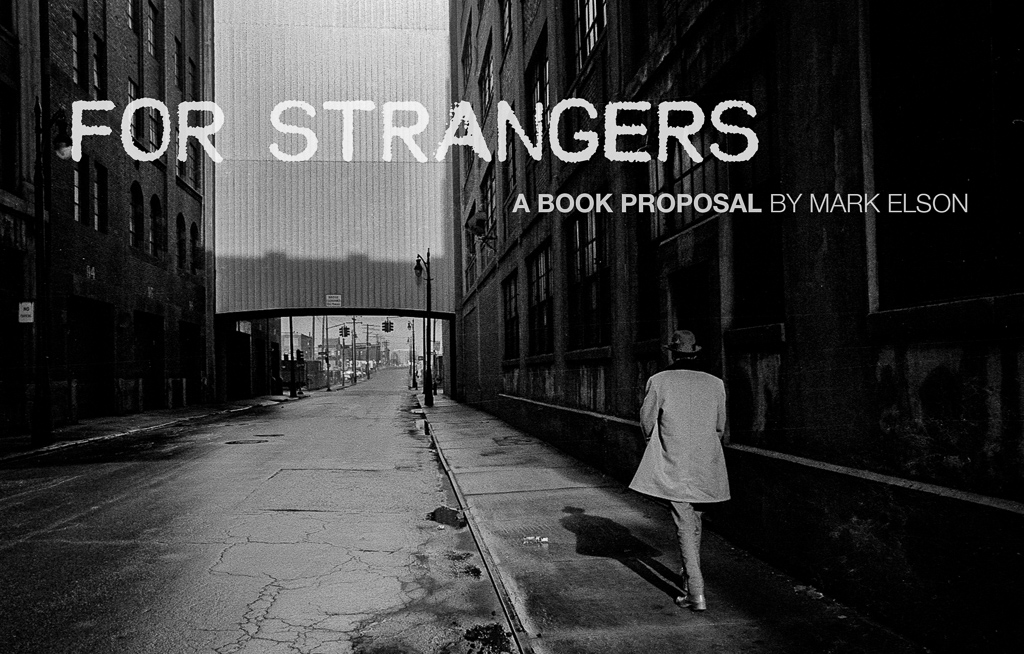 For Strangers
A book proposal by photographer Mark Elson.
Come on a trip with me across America. I want to show you something—a story of this country that's not about politicians or monuments or speeches, but about the simple, haunting beauty in our daily lives. The story that's told in my street photography of things most people don't see: a melancholy maid on a bus on her way to work. A man walking down an urban alley in a real-life film noir scene. A forlorn dog riding shotgun in an old man's vintage car. A cowboy lost in a city, squaring off against traffic.
"For Strangers" is a collection of my 35mm black and white analog street photography I made over decades that reveals an America few have seen. Readers will be transported to a place where the veneer of everyday life has been torn off to expose the hidden world of misfits, dreamers, romantics, and the disregarded. I looked for images of people who seemed lost—lost in thought, or in space, lost in their work, lost in play, or even lost in an era. I looked for desolate and abandoned places that had been forgotten or were off the beaten track: deserted bus stops, empty storefronts, hidden alleyways. While most people see children's behavior as silly, I captured their sense of bravado, their curiosity, and their apprehension. America can be a strange place, but also a place of wonder.
What drew me to these images was my own search for my place in the world. As a teenager in Detroit, about to leave home, I had a great deal of curiosity—and some fear—about exploring America. Traveling across the country to Los Angeles I began noticing and connecting with those fleeting yet compelling moments in life: the drama of a heated conversation, the wariness of a solo traveler, the melancholy of a train station in the middle of the night. Throughout my life I have never lost that connection.
Street photography connects us with each other, and in an increasingly fragmented world that bond takes on even greater importance. Perhaps that explains why the interest in this genre has never been greater, evidenced by the popularity of street photographers such as Vivian Maier, Garry Winogrand, and David Solomons, and the increase in street photography festivals all over the world.
As with my book "Battlefields of Honor: American Civil War Reeanctors," my unique perspective and ability to allow people to see the unseen, brings another artist's voice to the dialog.
Contact Mark Elson:
Email - mark@markelsonpictures.com
Phone - 323-240-4913