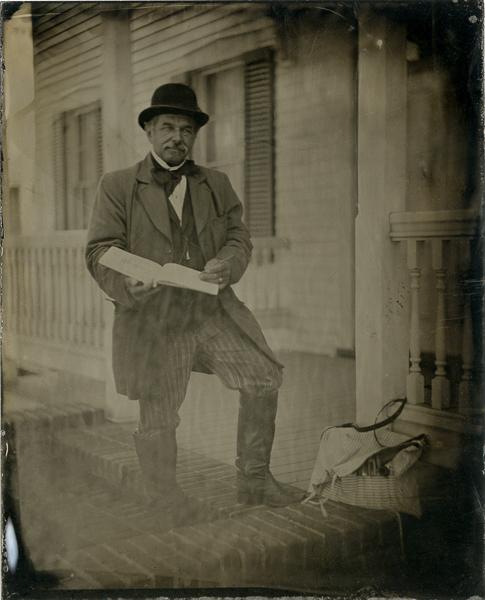 Mark Elson is a Boston-based photographer. He is the photographer/author of the photo-editorial book Battlefields of Honor: American Civil War Reenactors (Merrill Publishers), and his work has appeared in print and on-line publications in View Camera, Black & White: For Collectors of Fine Photography, Huffington Post and Hallowed Ground. His editorial photographs have been published in magazines such as Quilting Arts, Cloth Paper Scissors, Modern Patchwork, and Studios.
He has been interviewed on National Public Radio about his photography. In addition to digital and analog photography, Mark also works in the wet plate collodion photography process, which is making tintypes and glass plate negatives. Mark uses the same 19th century processes that were used during the Civil War era by noted photographers such as Mathew Brady, Timothy O'Sullivan, Alexander Gardner, and Carleton Watkins. Prior to photography, Mark worked in the film industry in Los Angeles.
Mark was given a scholarship to study at the American Film Institute in Los Angeles, where he was a directing fellow. Mark directed and produced a reality TV pilot about the world of fashion as well as a dramatic short film and short documentaries. Mark studied theater directing with Milton Katselas and actor Jeffrey Tambor. Out of those workshops Mark directed the Sam Shephard play, "Geography of a Horse Dreamer" at the Matrix and Skylight theaters in Los Angeles. Mark attended the Center for Creative Studies/College of Art and Design in Detroit, where he was given a scholarship to study photography and film.