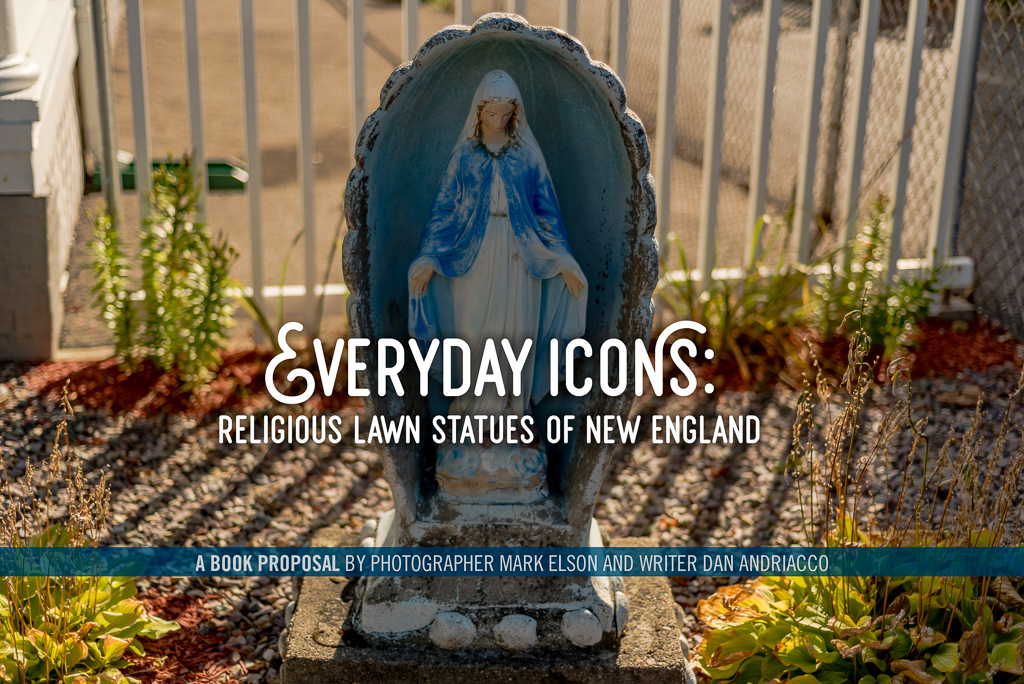 Everyday Icons: Religious Lawn Statues of New England
A book proposal by photographer Mark Elson and writer Dan Andriacco
Walk along the streets of heavily Catholic towns like Medford, Somerville, and Cambridge, MA and Kittery, ME with attentive eyes and you'll notice something special. In an age when many houses of worship stand nearly empty on weekends, religious statues populate the yards of New England like wildflowers.
In front of modest homes and imposing structures with manicured lawns stand these everyday icons of the Madonna, the Sacred Heart of Jesus, St. Francis of Assisi, and other saints. Why do these often-beautiful statues comfort or frighten observers? Are they mere kitsch, or outward symbols of a faith that goes deeper than church attendance for the people who own them? These are questions for readers of the book to ponder, drawn into the mystery by 175 photographs from around New England. A 2,500-word introduction will set the stage, exploring some of the long and controversial history of statues in both formal Christian worship and popular piety. The identity of individual statues may be part of the mystery for some, but that will be cleared up in a section at the back of the book.
The two unlikely co-authors of this book – who approach the subject from very different religious backgrounds and personal beliefs – will explore the meaning of it all in an afterward in the form of a dialogue at the end. The book will appeal to a wide demographic, including the deeply religious, those who appreciate and perhaps collect religious iconography, people who are fascinated with Americana and the unique habits of small-town life, and those who simply love kitsch.
Mark Elson Bio:
Mark is the photographer/author of Battlefields of Honor: American Civil War Reenactors, published by Merrell Publishers. His work has been featured in View Camera and Black & White magazines, and he has photographed assignments for Modern Patchwork, Cloth Paper Scissors and Studios magazines. Mark studied photography and film at the Center for Creative Studies/College of Art and Design in Detroit. He was also given a scholarship to the American Film Institute in Los Angeles, where he had a directing fellowship.
Dan Andriacco Bio:
Dan is the author of two books on religion and media, fifhteen mystery novels, and numerous short stories and essays in the mystery genre. After almost 24 years as daily newspaper reporter and editor, Dan was director of communications for the Roman Catholic Archdiocese of Cincinnati for more than twenty years until his retirement. He holds a Master of Arts in religion degree from the Athenaeum of Ohio/Mount St. Mary's Seminary in Cincinnati and a Doctor of Ministry degree from Columbia Theological Seminary in Decatur.
Contact Mark Elson:
Email - mark@markelsonpictures.com
Phone - 323-240-4913